The GIS Colorado Scholarship Committee has finished its evaluation of the 2021 scholarship applications and is pleased to inform you that we selected 4 scholarship recipients! There were many impressive projects submitted.
We are looking forward to welcoming these scholarship recipients into a year-long membership to GIS Colorado as well as watching some of them present their projects at GIS in the Rockies 2021. Thank you to all of the GIS Colorado members who make our scholarships possible, and congratulations to the scholarship recipients! This year's winners are: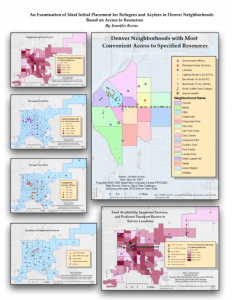 Jennifer Kerns
(view)
Jennifer Kerns is an environmental engineering major at MSU Denver. After taking an introductory GIS course and spending a summer working in earth data analysis, she realized how enjoyable and valuable GIS skills are, and chose to add a GIS minor to her degree program. She is fascinated by how human infrastructure and the natural world interact, and looks forward to using the skills she is learning to work with others in promoting sustainable development and finding solutions to modern environmental problems.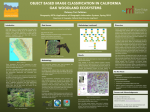 Delaney Callahan
(view)
Delaney Callahan is passionate about using GIS, remote sensing, and spatial reasoning as a tool for landscape-level conservation. While in school, her focus has been on acquiring the skills needed to analyze a range of environmental problems to support informed decision-making, promote adaptive management practices, and enhance real-world problem solving. She has five years professional experience working with federal land management agencies and non-profit organizations supporting wilderness stewardship tasks while using GIS. It is her hope to bring these skills to our public land management agencies to support sustainable natural resource management.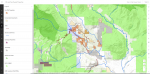 Peter Horgan
(view)
Working in land conservation for the Crested Butte Land Trust (CBLT), much of Peter Horgan's work has focused on stewarding and caring for conserved lands around the greater Crested Butte area. GIS has helped play a role in his position to visualize and communicate information both internally to other staff and board members and externally to the general public. Since starting the GIS program at CBLT, he has largely focused on creating and maintaining databases, data entry and map creation. The courses that he has taken and will be taking in the certificate program at DU have helped advance his knowledge and understanding of GIS workflows and how GIS fits into environmental applications.
Sarah Carroll
Winning entry unlisted due to sensitive material
Sarah L. Carroll is a PhD Candidate in the Graduate Degree Program in Ecology advised by Dr. Robin Reid. Sarah's research is focused on integrating ecological, social, and land-use dynamics data to understand how land-use change is impacting human-elephant interactions and elephant movement connectivity in southwest Kenya. Sarah earned a B.S. in Wildlife, Fish, and Conservation Biology from the University of California Davis in 2013. She went on to work as an intern and then a fellow with the NASA Earth Sciences DEVELOP program where she learned how to apply remote sensing and GIS techniques to real-world conservation issues.